Ethyl silicate ZQ-342-Si28
Cross-linking agent for organosilicon rubber; synthetic high-purity silica and quartz; raw material for silica gel; binder for paints and coatings; binder for ceramic materials.
Chemical name: Ethyl silicate-28
Alias: Ethyl orthosilicate-28, tetraethoxysilane
CAS.NO.: 78-10-4
Structural formula: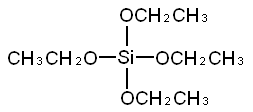 Appearance: colorless transparent liquid
Chroma (APHA): ≤20
Content: ≥98%
Specific gravity (20℃): 0.929-0.935
Silica content: 28%
Acidity: ≤50PPM (as HCl)
Ethanol: ≤1%
1. Crosslinking agent for silicone rubber;
2. Synthesize high-purity silica and quartz;
3. The raw material of silica gel;
4. Binder for paint and coating;
5. Binder for ceramic materials.
Packed in 200L PE plastic drum or galvanized iron drum, net weight 180kg per drum; Packed in 1000L IBC drum, net weight 850kg. Special packaging according to customer requirements. Sealed and stored in a cool, dry and ventilated place, moisture-proof and waterproof.
Address: Weiliu Road, Fine Chemical Park, Qilu Chemical Industrial Park, Linzi District, Zibo City, Shandong Province
Phone: 0533-7487266 0533-7489097
Fax: 0533-7488266
Contact: Mr. Qi 13905339398
Website: www.qiquanchem.com
Email: qfq@qiquanchem.com
Scan the QR code to read on your phone
We could not find any corresponding parameters, please add them to the properties table